A few days ago, we learned from relevant channels that Geometry's new small SUV, Geometry E, is expected to be launched on June 26.The new car has been pre-sold before, and a total of 3 models have been launched. The pre-sale price range is 87,800-104,800 yuan.
The new car will be available in three battery life versions of 320/380/401km, and will be produced in Geely's 4.0 Super Smart Factory (Qiantang Factory).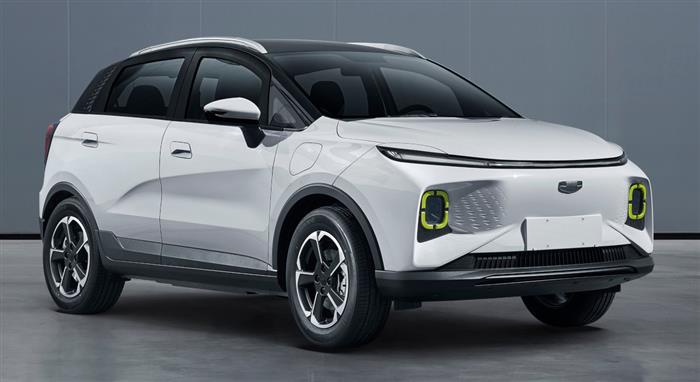 The new car adopts a closed front surround, only the bottom is hollowed out, and is equipped with through-type LED daytime running lights for the first time. The headlights below adopt a split design. A sporty vibe.In terms of size, the length, width and height of the new car are 4006/1765/1550mm respectively, and the wheelbase is 2485mm.
The LED taillights adopt a unique cutting design, and the overall shape of the taillights tends to be "boomerang".The roof adopts a sports dual rear wing design, and the high-mounted brake lights also adopt an independent design and are located between the two rear wings.
The interior of the new car is made of leather stitching in various colors, with red stitching and seat wrapping embellishment, and the overall appearance is more delicate.The official said that the car will be equipped with a microfiber leather antibacterial steering wheel, a disposable technology leather material, a fresh air system, a CN95-grade filter element, and a new virtual assistant "Xiao He" (iFLYTEK's 3.5-generation intelligent voice, which can support uninterrupted conversations, make calls, Listening to music, checking the weather, checking navigation, driving windows, turning on the air conditioner and other in-car functions), L2 intelligent driving assistance system, blind spot display system, driving recorder, four-wheel real-time tire pressure display, automatic door unlocking after collision Power failure double flash alarm, etc.
At the top of the center console is an interactive function light design called Inspiration Light.During the driving process, the interactive function light can have a "dialogue" with the user, through the change of color and light effect, to remind the user of the vehicle unlocking, charging and starting status, and also has functions such as welcome light, farewell light effect, and breathing display. .
In terms of power, the new car will be equipped with a drive motor model TZ160XS601 produced by Greebo Intelligent Power Technology Co., Ltd., with a maximum power of 60kW and a maximum torque of 130N m.Judging from the information released so far, the Geometry E has three battery life versions of 320km, 380km and 401km for consumers to choose from.