On June 22, the first electric network visited the Huawei store and learned that the Huawei HI version of the Extreme Fox Alpha S has entered the Huawei sales channel. The store is located in the Beijing Yintai Center. Version.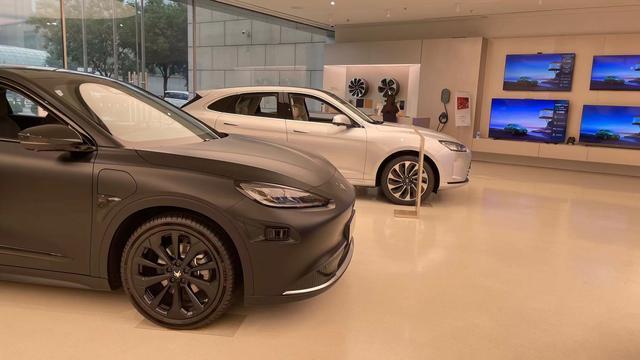 Huawei store
On May 7th this year, the HI version of the Alpha S Huawei was officially launched. According to the official information of the Alpha S, the new HI version of the Alpha S will be officially delivered in July this year. Therefore, opening up diversified sales channels will help improve the Alpha S. For car sales, it is clear that Huawei's offline stores are a good channel.
On June 20, Fan Jingtao, deputy general manager of BAIC Blue ValleyNew EnergyTechnology Co., Ltd., responded to investors' questions at the company's performance briefing, saying that the company and Huawei have been actively promoting the issue of entering Huawei's channels, but due to the Confidentiality agreements and other relevant provisions cannot be disclosed in detail at this time.
After a lapse of two days, we have seen that Jihu has settled in Huawei stores, which shows how active the speed of BAIC Blue Valley and Huawei is!
In July, the new HI version of Alpha S was officially delivered. The vehicle will be equipped with high-speed intelligent cruise assist function (ICA), and you can experience high-speed intelligent driving navigation assist function (NCA) on nearly 200,000 kilometers of expressways in eastern cities.
In August, the BETA version of the urban intelligent driving navigation assistance function (NCA) was first pushed to the users of the high-end version.Users in Shanghai and Shenzhen will first enjoy high-end smart driving based on high-precision maps.Premium version users in Shanghai will be the first to experience the Automatic Valet Parking (AVP).The high-speed intelligent cruise assist function (ICA) and the remote control parking function (RPA) have been "on the bus" one after another.
September will enter a large delivery period, Beijing and Guangzhou will unlock high-precision maps, and the Hongmeng smart cockpit will also be iteratively upgraded.
In December, the new HI version of Extreme Fox Alpha S will usher in another OTA upgrade of high-end intelligent driving, realizing the full opening of the high-precision map of 380,000 kilometers of high-speed nationwide, and will also open the Beijing-Tianjin Economic Belt, the Sichuan-Chongqing Economic Belt, and the Yangtze River Delta Economic Belt. High-precision maps of various regions such as the Belt and Road, the Pearl River Delta Economic Belt, etc.Meanwhile, Automatic Valet Parking (AVP) is available to all Premium Edition users.