On the evening of June 20, GAC Honda officially announced that its new pure electric model, the e:NP1 Extreme 1, was officially launched, with a price ranging from RMB 175,000 to RMB 218,000. There are 4 models to choose from.As the second pure electric model of GAC Honda, the new car is positioned as a small SUV, which is relatively close to the people on the whole.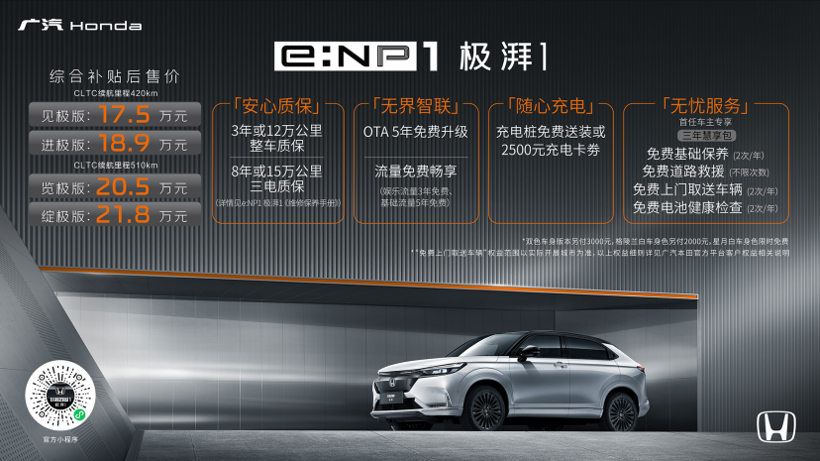 In terms of appearance, the overall shape of the Jipai 1 is transformed from the overseas version of Binzhi, using the e:N Design design language, the front face part uses a closed air intake grille, and also has a luminous H LOGO.It is worth noting that the charging port of the e:NP1 Extreme 1 is also placed in the position of the LOGO.
The side shape is relatively small and the muscle lines are more obvious, but because the length of the whole car is not large, it still looks small and beautiful.Since the Binzhi is used as the base model, the door handles of the C-pillar are retained.
In terms of tail shape, e:NP1 Extreme 1 adopts through-type taillights, which is better recognized at night. In the LOGO position, the new car uses HONDA in English instead of HONDA's H LOGO.
The interior is extremely simple, with a 10.25-inch suspended instrument panel + 15.2-inch vertical central control screen design.The overall sense of technology is better.
At the same time, in terms of interior materials, e:NP1 Extreme 1 will be mainly made of soft slush plastic materials, supplemented by a large number of piano paint materials, making the overall interior texture better.
In terms of power, the e:NP1 Extreme 1 adopts a single-motor layout this time, with a maximum power of 150kW, a peak torque of 310N m, a battery pack capacity of 68.8kWh, and a CLTC cruising range of 510km.
In terms of configuration, the new car will be equipped with a driver status perception system, streaming media rearview mirror, intelligent driving assistance and other functions. Therefore, the high-end version of the Extreme 1 is a new force that can match the performance and configuration of the whole vehicle. of.
On the whole, the emergence of the e:NP1 Jipai 1 has added a pure electric model that is worth buying under 200,000 yuan for consumers. Honda's product strength and the current policy, I believe that the Jipai 1 will There are good sales performance.