Hyundai IONIQ 6 design sketch exposure "bow body" or will have a very low drag coefficient
Time:2022-06-22 17:14:33Source:
According to foreign media reports, Hyundai Motor recently exposed the design sketches of the IONIQ 6 to warm up the publicity for this new pure electric model.Judging from the pictures, the new car will continue the design concept of the Prophecy Concept concept car, with an exaggerated "bow" shape, which makes us look forward to the wind resistance coefficient of this car after mass production.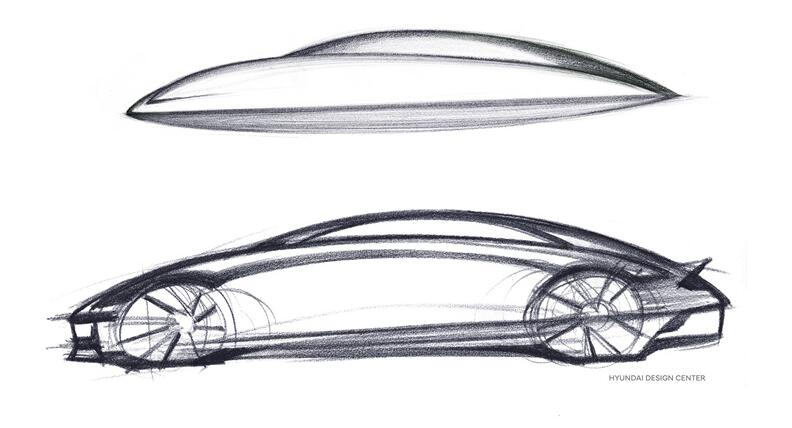 In addition, we can see other details of the IONIQ 6 from the sketch, such as extremely short front and rear overhangs, high waistline, large wheels, and the "ducktail" at the rear.This may indicate that this pure electric sedan will focus on performance or handling, with driving pleasure as the main core highlight.
Foreign media have previously photographed spy photos of a suspected IONIQ 6 in a camouflaged road test. From the point of view of this car, except that the waistline is in the middle, and the rear of the car is camouflaged so that the line trend cannot be seen, the rest of the features are compared with the sketches. Matching, then it depends on how extreme the back angle of the rear half of the body is.
Although the official has not revealed the interior design of this car, it is reported that it will have a front center console, digital instrumentation, HUD head-up display system and central control entertainment information display system similar to the same model of IONIQ 5.
In terms of power, the IONIQ 6 is also built on the modern E-GMP platform, which is the same as the IONIQ 5, Kia EV6 and Genesis GV60.Hyundai Motor has previously stated that this pure electric sedan will be equipped with a 73kWh battery pack and provide two different powertrains, of which the single-motor powertrain has a maximum output of 215hp (about 160kW), while the dual-motor version has a maximum output of 215hp. For 308hp (about 229kW), the cruising range will exceed 300 miles (about 482km).
Statement: the article only represents the views of the original author and does not represent the position of this website; If there is infringement or violation, you can directly feed back to this website, and we will modify or delete it.