On June 20, Huiyun Titanium Industry announced that the company will jointly build a new energymaterial industrial park project with the Yunan District Government of Guangdong Province and Yunsulfur MiningIndustry, with an investment scale of 10 billion yuan, mainly to build lithium iron phosphate, refined wet Phosphoric acid and other related projects.
Just a few days ago, the first line of BYD's Fudi battery production base project in Shengzhou, Shaoxing opened.The total investment of the project is about 13 billion yuan. The first phase will produce DM-i special blade batteries, and the second phase is to build a new energy QH battery project with anannual productioncapacity of 15GWh.
Pushing forward the time, on June 12, the third phase of the Wuhan base project of China Innovation Aviation Power Battery and Energy Storage System was also announced to start.The total investment of the first and second phases of the base is 10 billion yuan, with an annual production capacity of 20GWh. The third and fourth phases of the project have a total investment of 12 billion yuan and a total planned production capacity of 30GWh.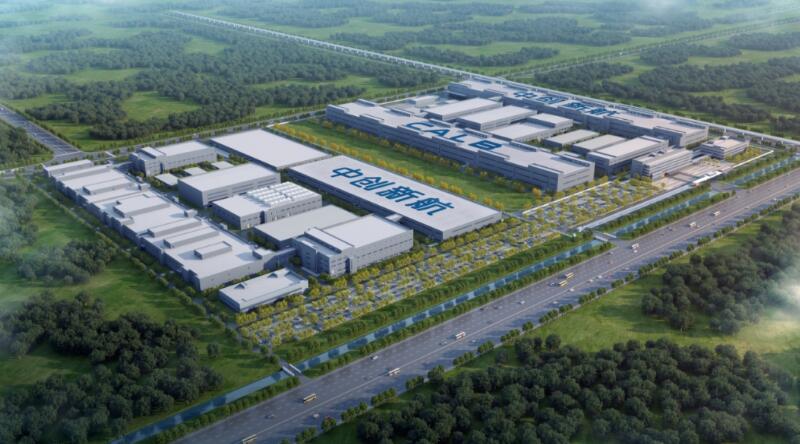 Aerial view of China Innovation Aviation Wuhan Industrial Base; Image source: China Innovation Aviation
In addition, on June 10, Honeycomb Energy announced that it would lead the industry chain enterprises to invest in the construction of the Honeycomb Dazhou Lithium Battery Industrial Park, with a total investment of 17 billion yuan, planning to build lithium iron phosphate and cobalt-free cathode material production lines, lithium iron phosphate precursors and Electrolyte production line, battery recycling and dismantling production line and related supporting facilities. In the future, the industrial park will also plan to build an energy storage battery production line with a total capacity of about 30GWh.
Looking at today's lithium battery industry, companies announce new construction projects almost every few days, and they are often tens of billions of investment.According to incomplete statistics from Gasgoo, more than 60 companies have announced lithium battery investment projects since the beginning of this year. The planned investment has exceeded 600 billion yuan, and the average investment has exceeded 10 billion yuan.
It is not easy to expand production, and lithium battery projects are "burning money"
There are frequent investment projects in the lithium battery industry, and the driving force behind it is not difficult to trace.
You know,the development momentum ofnew energy vehicles is quite fierce.From the perspective of production and sales scale, the cumulative sales of new energy vehicles in my country has risen sharply from 20,000 at the end of 2012 to 11.08 million at the end of May this year. Since 2015, production and sales have ranked first in the world for seven consecutive years.And under the favorable policies and the continuous improvement of the performance of new energy vehicle products, the production and sales of new energy vehicles are expected to continue to grow rapidly.
This will definitely drive the demand for power batteries and upstream materials to rise.Statistics released by the China Automotive Power Battery Industry Innovation Alliance show that in 2021, the cumulative installed capacity of power batteries in my country will be 154.5GWh, a year-on-year increase of 142.8%.According to the forecast ofGasgoo Automotive Research Institute, the demand for power batteries will continue to grow, and it is expected that by 2025, China will need power batteries close to 900GWh.From a global perspective, according to GGII, the global penetration rate of new energy vehicles will reach 20% in 2025, and the global power and energy storage battery shipments will reach 1,516GWh.
The "cake" is so big that many companies want to "grab food".To compete for the "cake" in this market, the most basic condition is to have production capacity, and because of this, power battery companies have begun to stage a production capacity expansion drama.
However, it is not easy to expand production capacity. One of the difficulties is the "huge investment", which is also the reason why the investment in power battery projects is generally large.
It is reported that the capital investment for building a lithium battery factory includes civil construction, equipment, installation costs, as well as working capital and other costs.Among them, only lithium battery equipment needs a lot of financial support.The operation of the lithium-ion battery industry in 2021 released by the Ministry of Industry and Information Technology shows that the equipment investment in the lithium battery industry accounts for about 63%-77% of the total investment, and the equipment investment per GWh is about 184 million to 335 million yuan.Another agency data shows that in terms of lithium battery equipment, the investment in single GWh equipment is about 220 million yuan, including 180 million yuan for battery equipment, 20 million yuan for modules, and about 20 million yuan for PACK.
And not only that, the civil construction, installation, storage of raw materials and workers' remuneration of the lithium battery factory also require a lot of expenses.CATL disclosed in its financial report that even a more cautious estimate requires 300 million yuan per GWh of investment.
This is indeed a more cautious estimate.
In May of this year, Ningde Times released a revised fundraising prospectus. The company revised down the amount of funds raised to no more than 45 billion yuan (previously planned to raise no more than 58.2 billion yuan), which will be used for Fuding Times and Guangdong Ruiqing Times. , Jiangsu Times Power (Phase 4) and Ningde Jiaocheng Times (Cheliwan Project) and other four projects.After the above-mentioned projects are completed and put into operation, CATL will once again add an annual production capacity of about 135GWh of lithium-ion batteries.
According to the company's reply to the inquiry letter, among the latest fixed increase projects, the unit capacity investment cost of Fuding Times is about 306 million yuan/GWh, and the unit capacity investment cost of Guangdong Ruiqing Times is about 400 million yuan/GWh. The investment cost per unit capacity of Times Power (Phase IV) is about 388 million yuan/GWh; the Cheliwan project cannot be split due to the inclusion of the PACK production line.If only based on lithium-ion battery capacity, the company's unit lithium-ion capacity investment cost is about 488 million yuan/GWh.
In addition, the recent investment amount of other enterprise-related project units is also on the high side.For example, according to the estimated investment amount and corresponding production capacity, the unit investment cost of the Fudi battery Shengzhou production base project is about 433 million yuan/GWh, and the unit investment cost of the Chuneng New Energy Lithium Battery Industrial Park project is about 450 million yuan/GWh. The unit investment cost of the third and fourth phases of the Wuhan base of the aviation power battery and energy storage system is about 400 million yuan/GWh.
If the income is not enough, where will the money come from?
It can be seen that the lithium battery project needs to invest so much.Then, it is an investment of tens of billions of dollars at every turn. Where does the money come from?
A reality is that although the income of power batteries and their upstream companies has risen in recent years, they are a little insignificant in the face of one tens of billions of investment projects.
Taking CATL as an example, in 2021, the company will achieve a revenue of 130.3 billion yuan and a net profit of 15.9 billion yuan attributable to the parent. In the first quarter of this year, it achieved a revenue of 48.68 billion yuan. Affected by factors such as rising raw material costs, the net profit attributable to the parent in the first quarter was Only 1.493 billion yuan.
Among the upstream material companies, even Ganfeng Lithium, which has benefited from the increase in raw material prices and its performance has risen sharply, the annual revenue in 2021 will only reach 11.16 billion yuan, the net profit attributable to the parent is 5.228 billion yuan, and the revenue in the first quarter of this year is 5.365 billion yuan, and the net profit attributable to the parent was 3.525 billion yuan.
From this point of view, it seems that the self-owned funds of related companies are neither spent nor insufficient. To promote lithium battery-related projects, it is necessary to combine other channels.From the actual situation, the project funds of related companies also come from fixed increase, funds, M&A loans, and joint ventures with other partners.
Among them, for listed companies, it is a common practice to raise funds through fixed increase and other means.
Relevant data shows that since the listing of CATL in 2018, the cumulative amount of funds raised has reached 84.6 billion yuan (including IPO financing, indirect financing and fixed increase, etc.).The most recent one is the 45 billion yuan fixed increase mentioned above.
In addition, in the near future, Huayou Cobalt has also issued a fixed increase plan. It plans to raise no more than 17.7 billion yuan in non-public offerings. The net proceeds after deducting the issuance expenses will be used for Indonesia's Huashan Nickel and Cobalt Company with an annual output of 120,000 yuan. The nickel-cobalt hydroxide wet process project with the amount of nickel metal per ton, the battery-grade lithium salt project with an annual output of 50,000 tons of Guangxi Huayou Lithium Industry Company and the supplementary working capital.
Prior to this, Paine Technology also issued an announcement that the total amount of funds raised by issuing stocks to specific objects should not exceed 5 billion yuan, which will be used for 10GWh lithium battery R&D and manufacturing base projects, headquarters and industrialization base projects, and supplementary liquidity after deducting relevant issuance expenses. funds.
Of course, unlisted companies can also raise capital, but in a different way.
For example, Honeycomb Energy, it is reported that since the company completed a strategic financing of 1 billion yuan in April 2020, it has successively captured investment from well-known institutions such as Shenzhen Venture Capital, IDG, and Xiaomi.Last year alone, Honeycomb Energy completed 19.78 billion yuan in financing.Another example is Lishen Battery. In January this year, the company announced the completion of the first round of financing for power batteries.
It should be pointed out that, compared with listed companies, unlisted companies usually have relatively few financing channels and relatively limited financing scale.Because of this, under the huge investment demand of lithium battery projects, the lithium battery industry chain enterprises get together to seek listing.
It is reported that as of 2021, among the top ten battery companies in terms of vehicle loading, only China Innovation Airlines, LG New Energy, Honeycomb Energy and Tafel have not been listed, except for Tafel, which temporarily suspended the listing process due to patent infringement. , and the rest of the companies have accelerated the IPO process this year.
In January this year, LG New Energy was listed on the Korea Stock Exchange, raising a total of 11 billion US dollars.In addition to LG New Energy, Honeycomb Energy and China Innovation Aviation have also started their own IPO road.Earlier this year, according to CITIC Securities, it had signed a listing counseling agreement with Honeycomb Energy, and filed a listing counseling filing with the Jiangsu Securities Regulatory Bureau.In March this year, China Innovation Airlines submitted a prospectus, seeking to be listed on the Hong Kong Stock Exchange.
Some people in the industry pointed out that listing can relieve huge financial pressure and support related companies to expand production capacity, improve technology, and expand the market. Therefore, for most companies, listing is a necessary action if they want to become bigger.
It is worth noting that, whether it is a listed company or a non-listed company, there is no lack of support from local governments behind its lithium battery projects.
Taking the Huiyun Titanium New Energy Materials Industrial Park project mentioned at the beginning of the article as an example, the total investment of the project is 10 billion yuan. According to the agreement, Huiyun Titanium will invest about 6.2 billion yuan, and Yunsulfur Mining will invest about 2 billion yuan.Although it did not mention whether the government of Yun'an District of Guangdong Province contributed or not, it clearly pointed out that the government of Yun'an District of Guangdong Province will lead the formation of a coordination working group, actively connect and promote the implementation of relevant projects, and support parties B and C according to law. The affiliated company invests in the construction of a new energy material industrial park project in Yun'an District, Yunfu City, and provides preferential policies in accordance with national regulations.
In addition, from the perspective of many other projects, in terms of project guarantee, the governments of many places actively promote policies such as energy, land, financing and talents to incline to the new energy and new material industry led by lithium batteries, which is also important for related companies. "Welfare".
Winning the market is not just about money
For companies in the lithium battery industry chain, getting the funds needed for capacity expansion is a very good thing to be delighted with, but this does not mean that "everything is going well".As far as power battery companies are concerned, they are not only facing fierce competition in the same industry, but will also be gradually affected by the self-developed and self-produced batteries of car companies.
At a recent analyst meeting, Li Bin, founder and CEO of NIO, made a detailed disclosure of the company's layout in the battery field. It was mentioned that NIO plans to start mass production of self-developed batteries in the second half of 2024. , the corresponding model is a new car in the price range of 200,000-300,000 yuan under NIO.
In May, it was reported that Weilai plans to invest 218.5 million yuan in new R&D projects in Shanghai, including 31 R&D laboratories engaged in the research and development of lithium-ion cells and battery packs, as well as a trial production line of lithium-ion cells and 1 battery pack line, and it is clear that the construction of the project trial production line will do preliminary exploration for possible large-scale production, and trial production samples will be used for subsequent in-depth development.Some industry insiders pointed out that this may be the beginning of NIO's battery manufacturing.
In fact, in addition to Weilai, many car companies have chosen to develop and produce their own batteries.
For example, Beijing Benz recently announced that a new generation of domestically produced Mercedes-Benz batteries was officially rolled off at the Beijing Benz battery factory in May, and the new generation of batteries will be mounted on the new domestically produced EQE that will soon be put into production.
Tesla CEO Elon Musk also said at the first quarter earnings conference of this year that Tesla delivered the first electric vehicles equipped with self-produced 4680 batteries.And according to its forecast, this year, its Texas factory will be able to produce Model Y with 4680 structure battery pack and 2170 non-structure battery pack at the same time, and the Berlin plant will also realize 2170 and 4680 co-production.
In addition, GAC Aian's self-developed power battery trial production line started construction in March this year, with a total investment of 336 million yuan and is expected to be completed by the end of this year.According to the company, in the future, 30% of GAC Aeon's high-end batteries will be self-developed, while 70% of low-end batteries will be manufactured by external battery companies.
In addition, Xiaopeng, Ideal, FAW, Great Wall, Dongfeng, etc. are also actively entering the field of power batteries through self-research, self-construction, joint construction, and shareholding.
At present, the main purpose of self-developed and self-produced batteries by car companies is to ensure terminal supply and reduce supply chain risks, and the current layout of car companies is mostly in the early stage of planning or construction, and the actual production capacity is limited, but gradually In the process of development, it will inevitably take away the "cake" of some battery suppliers, especially the power battery companies with backward technology.
In this regard, some people in the industry reminded that while expanding production capacity, relevant enterprises should make efforts to innovate in technology, improve product structure, increase technology premium, and seek new growth points when developing their own skills.In addition, for related companies, the important thing is not to compete with car companies, but how to establish a strategic cooperative relationship of mutual trust with car companies in such a game relationship, to give full play to their respective advantages and form synergy.
Of course, at the same time, relevant companies need to be wary of excess capacity.
According to the plans of various battery companies, the production capacity of CATL will reach 670GWh in 2025, the production capacity planning target of BYD and Honeycomb Energy in 2025 will also reach 600GWh, the production capacity target of China Innovation Aviation in 2025 is 500GWh, and the production capacity plan of Guoxuan Hi-Tech in 2025 Yiwei Lithium Energy will build a production capacity of 200GWh in 2023.The 2025 production capacity planning of the above six companies alone will reach 2,870GWh.
Ouyang Minggao, vice chairman ofthe ChinaElectric VehiclesAssociation and academician of the Chinese Academy of Sciences, publicly stated this year that as the global electric vehicle enters a stage of rapid development, battery production capacity is rapidly expanding. 100 million kWh (1500GWh), it may reach 3 billion kWh in 2025, battery shipments are expected to reach 1200GWh in 2025, of which 70% to 80% will be used in the domestic market, and 20% to 30% will be exported overseas market."We expect there will be excess battery capacity in 2025."
In response to this problem, Ningde Times recently responded to investors' questions, saying that the planned production capacity of the lithium battery industry is too large, and it depends on the final implementation. At the same time, it must also see that future products and technologies are constantly updated and updated The matching problem of existing technology and equipment."We believe that high-quality effective production capacity will still be scarce in the future, and there will be excess ineffective production capacity."
Therefore, on the whole, while the production capacity is expanding, related companies should improve their technical strength, produce products that are truly marketable, and avoid wasting production capacity.In addition, the investment in lithium battery projects is huge, and enterprises need to grasp the rhythm of capacity expansion to avoid blind expansion of investment.